The holidays are here and in full swing. Many people are hurrying up to grab last minute presents and gifts for their loved ones, but at our school, we remind and teach our students that there is much more to Christmas than just gifts. We teach them the story of Jesus' birth and why it is important to pray and rejoice during this season.
The Meaning of Advent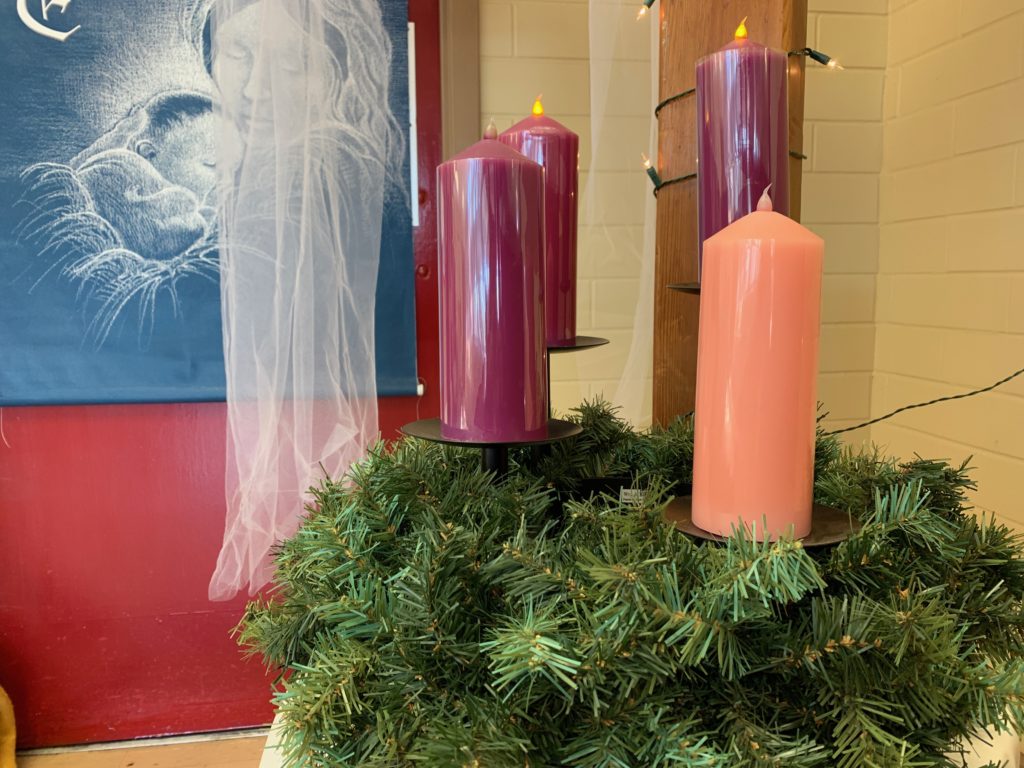 Advent is derived from the Latin term adventus, which means arrival, and is the start to the New Year in the Church. This season begins four weeks before Christmas. During this time, we prepare our hearts and mind, and reflect on the real reason of the holiday and why we celebrate – the birth of Jesus.
A common tradition during Advent is the lighting of the Advent wreath. Each Sunday, we light one of the four candles around the wreath in preparation of the coming of Jesus. The first, second, and fourth are often purple, and the third is pink or rose. They each have a symbolic meaning, and are lit in the following order:
Hope (Purple) – The Prophecy Candle
Faith (Purple) – The Bethlehem Candle
Joy (Pink/Rose) – Shepard's Candle
Peace (Purple) – Angel's Candle
Additionally, there is sometimes a white candle in the middle that we lit on Christmas Eve, which is referred to as Christ's Candle.
Celebration of Christmas
At Sts. Leo-Seton Catholic School, faith is the core of all that we do. We are continuously providing a strong Catholic education for them to continue to grow in the likeness of God. Therefore, with Christmas around the corner, we focus on reminding our students and families the importance of Christmas Day.
Christmas is a special holiday for many reasons, but as we previously mentioned, the most important is the birth of Jesus. During the holiday season, many people forget the real reason for celebration and mainly focus on getting gifts and with this, the true meaning of Christmas is lost. We encourage our families to attend Mass, pray, spend quality time and love one another, or give back to others by donating toys or volunteering at a local shelter.
"This is an opportunity for families to reflect on a miracle of a baby named Jesus who would one day sacrifice his life for all of us. Christmas is special to me because of this, not the idea of buying presents."

Amos Batiste, Development Director
Our Nativity Play
Each year, the 8th graders put on the nativity play before Christmas break. We invite our families to attend this mass where our students perform the play for the school. This tradition is a way for our students to celebrate the birth of Jesus and teach the true meaning of why we celebrate.
"Love the Lord with all your heart, and with all your soul, and with all your mind"

Matt — 22:37
Merry Christmas!
We here at Sts. Leo-Seton Catholic School want to wish you and your family, from ours, a very Merry Christmas!
---
About Sts. Leo-Seton Catholic School
Located in Lafayette, Louisiana, Sts. Leo-Seton Catholic School has been providing Catholic school education for 60 years. The mission of Sts. Leo-Seton Catholic School is to teach as Jesus did, building a community of believers dedicated to serving others, while providing excellent academics with a nurturing environment. For more information on how to join our family, please contact us today.